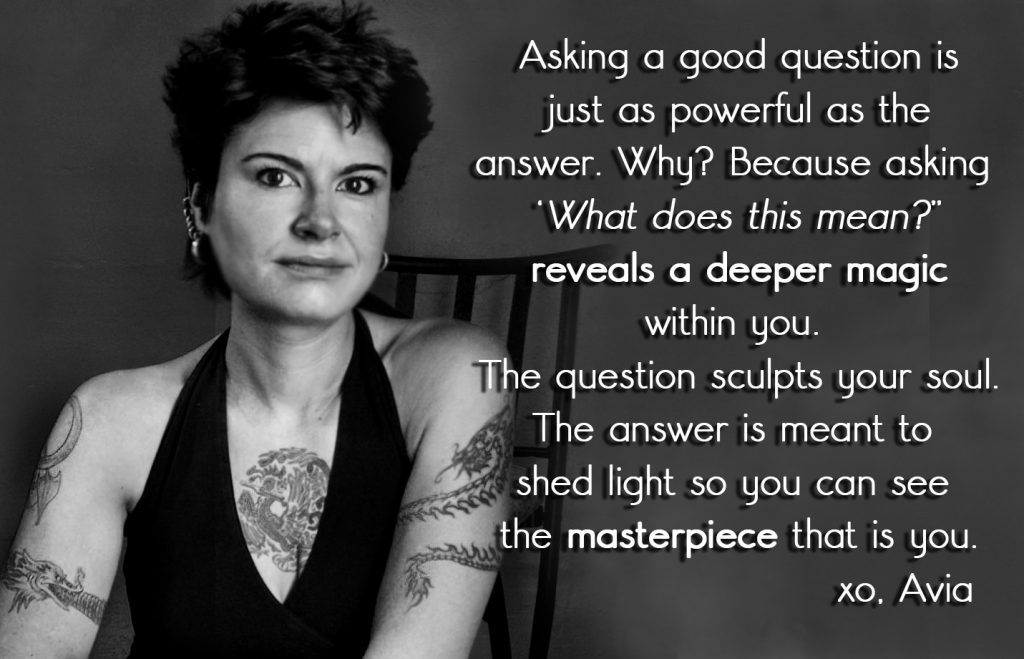 If you want answers to your deepest, most curious questions about dreams, visions, symbolism…or just about funky stuff in general…
Welcome.
You're in the right place because Avia has answers for you.
Simply go to my Etsy Shop, select the reading that suits your needs and I'm there for you!  You can find my services for you here:
Once you purchase your reading, I will send you a message confirming I got your request. Then you can anticipate your full consultation within 12-24 hours. 
Thank you so much for your trust.
I look forward to working with you!
Brightly,
Avia
What's next? Avia will start crafting personalized answers and symbolic solutions to your question. Once paid, Avia will send your very own detailed, insightful, intuitive reading.
Give her 12-24 hours to provide your answers. It does not happen often, but if Avia happens to get behind schedule, she will send you an email (to the email you used to submit your question) to notify you if there is a delay.
Thank you so much for contacting Avia, and she looks forward to having the honor of serving you on your path!
---
Please note: Questions submitted without payment will not be answered. Sorry folks, this is a bespoke, tailored service that requires a significant amount of time and energy. Avia is investing in YOU. She offers her services with the hope you recognize that you are investing in yourself too, as well as investing in Avia's ability to offer you clarity. Thanks for understanding.
---
Disclaimer: I love my clients because they are smart, savvy people. However, for practical purposes, I must provide the following disclaimer. Please don't take it personally, it's just stuff that has to be disclosed when conducting this kind of service in these modern times.
All clients must be 18 years of age or older.
No intuitive, psychic or tarot reading that is given by Avia is intended to, nor should it ever take the place of professional services including but not limited to: medical, legal, financial, business and/or psychological. Readings are for educational, personal and spiritual purposes only. Avia accepts no liability and/or responsibility for any actions and/or decisions any client chooses to take or make based on his/her reading with Avia.
Follow-up questions are allowed but are answered according to Avia's discretion. No readings are given without first receiving payment. Additional service fees may apply for follow-up questions/answers. After payment is received, please allow Avia 24-48 hours to provide her response. If she is running behind schedule, Avia will contact you to let you know of the delay using the email you provided upon purchase of your reading.
Avia strives to make every client completely satisfied with his/her consultation. However, sometimes the Universal energies get wonky, and a client might not be fully appeased. Should this anomaly arise, the client must notify Avia by email and establish a discussion. After this communication, Avia may offer a refund to the client at her discretion.
Sometimes Avia has a potty mouth, and *gasp* a dirty word might crop up in a client's reading. If a client is offended by this occasional verbal slip-up, Avia apologizes in advance.